The Greenfield Review Press
The Greenfield Review Press published its first book, a collection of inmate poems smuggled out of Soledad Prison, in 1971. Since then, our press has been a home for a great diversity of voices, including but not limited to African, African American, Arab American, Asian American, American Indian, Caribbean and Chicano poets and fiction writers. We were a multicultural publisher before the term gained wide currency, although we define "multicultural" as inclusive of all cultures not just those neglected in the past. We have offered a number of imprints - from the Ithaca House poetry series to the traditional folk tales of Bowman Books to our audio series Goodmind Records. The Frank Waters Memorial Series, bears the name of one of the West's greatest novelists and features first books of prose by American Indian writers. more info

Order Greenfield Review Publications from Lulu.com

>



The Ndakinna Education Center
The Ndakinna Education Center is an affiliate of the Greenfield Review, a 501(c)(3) nonprofit and charitable organization located in Greenfield Center, New York. Over the last twenty years the Center has offered people of all ages unique hands-on learning experiences, creative presentations, and exhibit spaces focusing on regional Native American understandings, Adirondack culture, wilderness skills and awareness of the natural world.




WesternAbenaki.com
WesternAbenaki.com is a website dedicated to the preservation and restoration of the Western Abenaki language. It is made possible by support from The Greenfield Review and user donations. In addition to a keyword searchable online dictionary, online lessons, radio shows and history, free language courses open to all are held at the Ndakinna Education Center and throughout the northeast supported in part by the Greenfield Review Press. Most recently, we've opened the Northeast Indigenous Language Archive (NILA) at the Ndakinna Education Center giving home to thousands of rare books, documents and recordings of the Native languages of the region.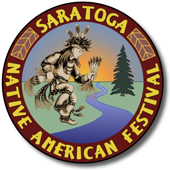 The Saratoga Native American Festival
The Saratoga Native American Festival is a collaborative effort of the Ndakinna Education Center and the NYS Office of Parks Recreation and Historic Preservation.. The event is open to the general public, with activities taking place under shelter, rain or shine. Activities incliude Native American music, stories, crafts and food. There are also dance competitions, drum groups and demonstrations such as flint-knapping making tools from stone along with traditional games, hunting and survival techniques. The festival is also known for having the finest Native vendors, selling and displaying their own hand crafted items.